Have you finally taken the leap and bought your dream yacht? We're willing to guess that you want to make sure it continues to stay in the same excellent condition that you bought it in. If we guessed correctly, check out these four expert tips for boat maintenance.
1. Clean the Canvas
"Canvas" is the general term used for durable fabrics used to create cockpit and console enclosures, boat covers, line and gear pockets, and more. Keeping canvas clean is an essential first step for overall boat maintenance.
Don't wash or dry your canvas in a household washer or dryer, as this will just quickly destroy the fabric. Instead, use a light brush, mild soap, and lots of freshwater to remove dirt, bird droppings, salt, and other abrasive materials. Maintaining the canvas on your boat will keep the fabric waterproof and it's UV feature working properly, as well as prevent mildew from growing. If you have started to notice that the canvas on your boat is not as waterproof as it used to be, treat it with a product such as 303 Fabric Guard. It will restore its ability to repel water.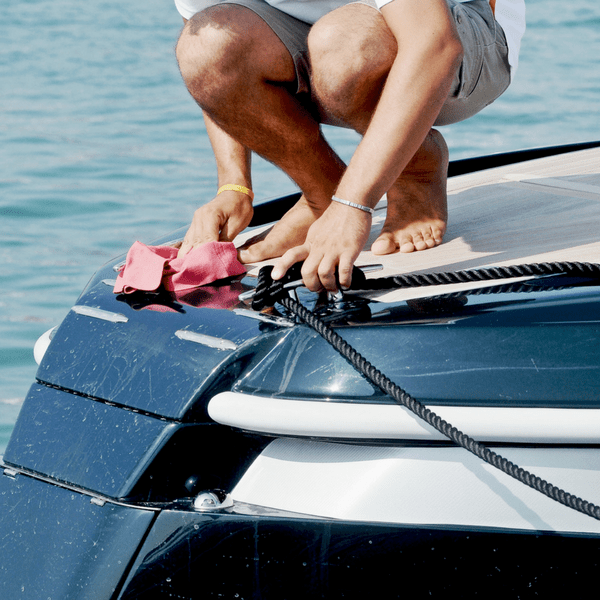 2. Clean the Vinyl and Upholstery
Vinyl is easily the most widely used material for exterior seating on boats. While it is extremely durable and tough, using the wrong product to clean it can ruin it. Regularly clean vinyl with a sponge and mild soap followed with a thorough rinsing. Stay away from cleaners that contain ammonia or bleach, as this will only ruin it over time.
Keep in mind that the most fool-proof way to make vinyl last is to keep safely stored away when not in use. If your exterior cushions are removable, tuck them below deck at the end of the day. Protect vinyl fixtures that are permanently exposed, such as benches, chairs, and console seats, with canvas covers.
3. Keep Gel coat from Fading
If you have a fiberglass boat, then chances are you must keep up with gel coat maintenance on the hull sides and on the deck. Gel coat is the glossy exterior boat finish that protects the fiberglass from the sun, salt, and anything else Miami's unpredictable weather wants to toss at it. However, if its maintenance is not proper, it can turn into a chalky, grimy mess.
Essential gel coat maintenance begins with waxing and/or polishing. Polish will have a cutting agent that removes oxidation from the gel coat and make it shine. Whereas wax will protect and seal the gel coat, so it can repel dirt, salt, water, and sun damage. Gel coat should be maintained with a coat of wax at about twice a season.
4. Wash Your Boat
Every time you take your boat out on the water, make sure to rinse it down once you bring it back to the dock. Washing away grime and salt with a high-quality but gentle soap is imperative. If you use a cleaner that is too harsh, it may remove the protective wax. And, it may eventually dull the shine of the gel coat. Avoid any accidental scratching by using a soft sponge or brush on the smooth areas of your yacht.
If you need help deciding which type of watercraft fits your needs, the yacht brokers at The Advantaged have plenty of tips for buying a boat. Regardless of whether you are buying or selling a yacht, contact us for more information on how we can be of service to you.