Dive into Miami's captivating waters with The Advantaged Yacht Charters and Sales, where yacht excursions and sales find their epitome. We're thrilled to announce the launch of an opulent new line of vessels: the Ventura Boats. Reflecting a perfect blend of meticulous craftsmanship, avant-garde style, and unparalleled excellence, Ventura Boats is set to redefine nautical luxury.
👉Also read: Party Yachts in Miami – Book and Rent Today!
Ventura Boats: The Epitome of Elegance and Adventure
Ventura Boats emerge as the pinnacle of marine sophistication, presenting a diverse range of models and classes tailored to various maritime desires. Each vessel, from the sleek racer models to the grand luxury editions, epitomizes a commitment to design excellence. The hull, meticulously crafted, stands as a testament to impeccable build quality, combining aerodynamics with resilience.
But Ventura Boats aren't just about beauty; they're powerhouses on water. Engineered for optimal performance, these boats balance raw power with agility, ensuring every water journey is both thrilling and enjoyable.
Discover New Ways to Explore with Ventura Boats
Perfectly suited for serene family excursions and also engineered for the most audacious of sea outings, they harmoniously blend luxury with adventure. Every journey aboard a Ventura offers a plethora of water activities. Imagine diving into the azure depths for snorkeling, enjoying exhilarating jet ski rides, or simply lounging on the deck, soaking in Miami's sun-kissed beauty.
Their design, paired with cutting-edge features, ensures you savor every waterway experience in unparalleled style and comfort. With Ventura Boats, Miami's expansive waterways unfold like a grand tapestry, beckoning you to explore every nook and cranny. It's an invitation to elevate your maritime adventures, to witness Miami like never before. Venture out, explore, and let Ventura be your luxurious vessel of discovery.
Choose Your Perfect Ventura Boat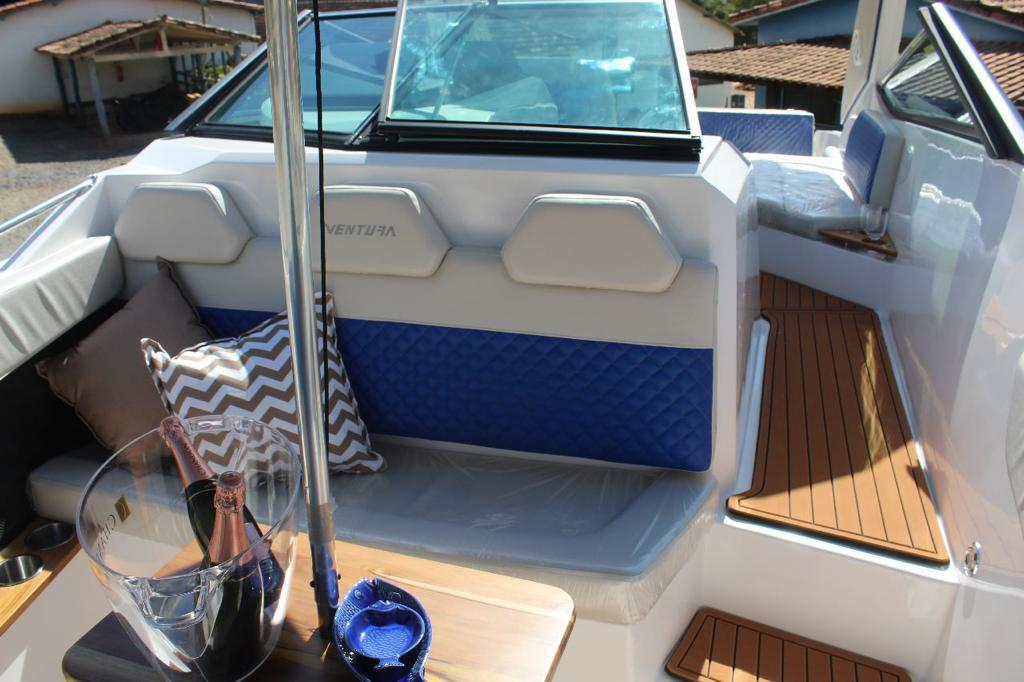 At the heart of every Ventura Boat lies an unwavering commitment to exquisite craftsmanship. Each vessel is a culmination of countless hours of dedication, where every stitch, curve, and fixture is finessed to perfection. But what truly elevates Ventura Boats in the maritime panorama are their groundbreaking features and design elements. From streamlined hulls ensuring smoother rides to opulent interiors redefining luxury, these boats are true masterpieces on water.
Dive into a realm of nautical elegance with Ventura Boats' stunning array of models, each promising a unique voyage experience.
Ventura V450 Premium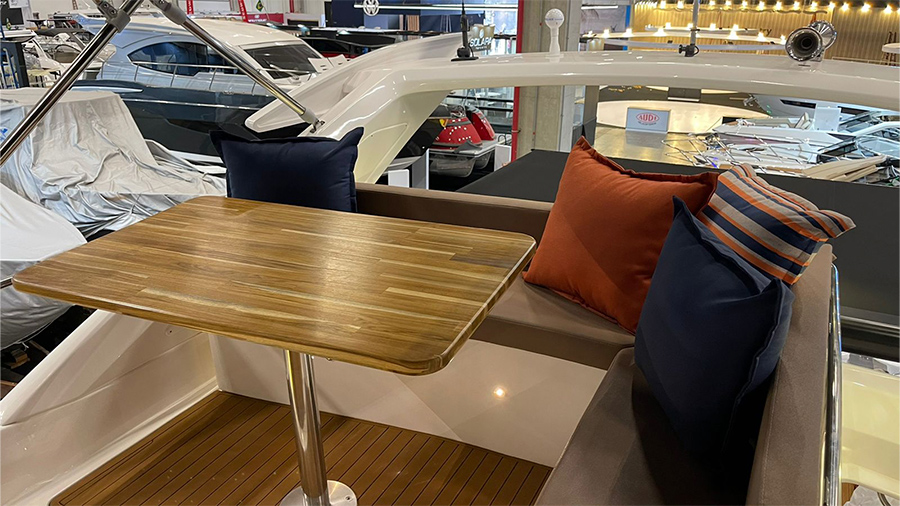 The Ventura V450 premium yacht cruiser creates lasting memories with its spacious layout and comfort. Enjoy panoramic ocean views from the flybridge, swim easily from the platform, dine outdoors on the aft deck, entertain in the salon, and relax in lavish staterooms. Whether with family or friends, this yacht ensures unforgettable experiences. Its generous design and exceptional comfort guarantee a smooth voyage in any weather. With its roomy cockpit, versatile salon seating, and well-equipped galley, the V450 offers ample space for all on board.
Ventura V300 Day Cruiser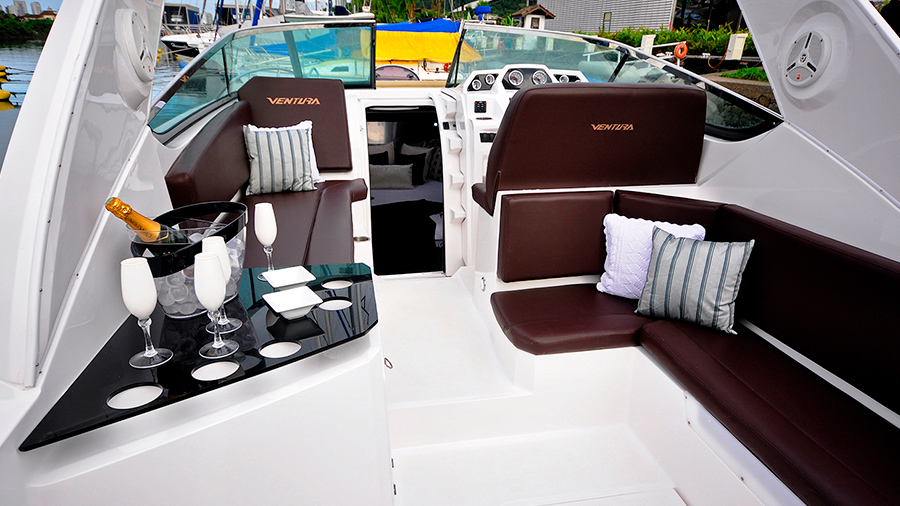 The Ventura V300 Day Cruiser is the epitome of comfort and adaptability. Discover unparalleled boating luxury with this cuddy cabin boat that accommodates up to 12 guests. Its expansive solarium, cozy cabin, handy mid-cabin, well-equipped galley, plush sofa, and spacious swim platform ensure an exquisite experience.
Ventura V220 Surf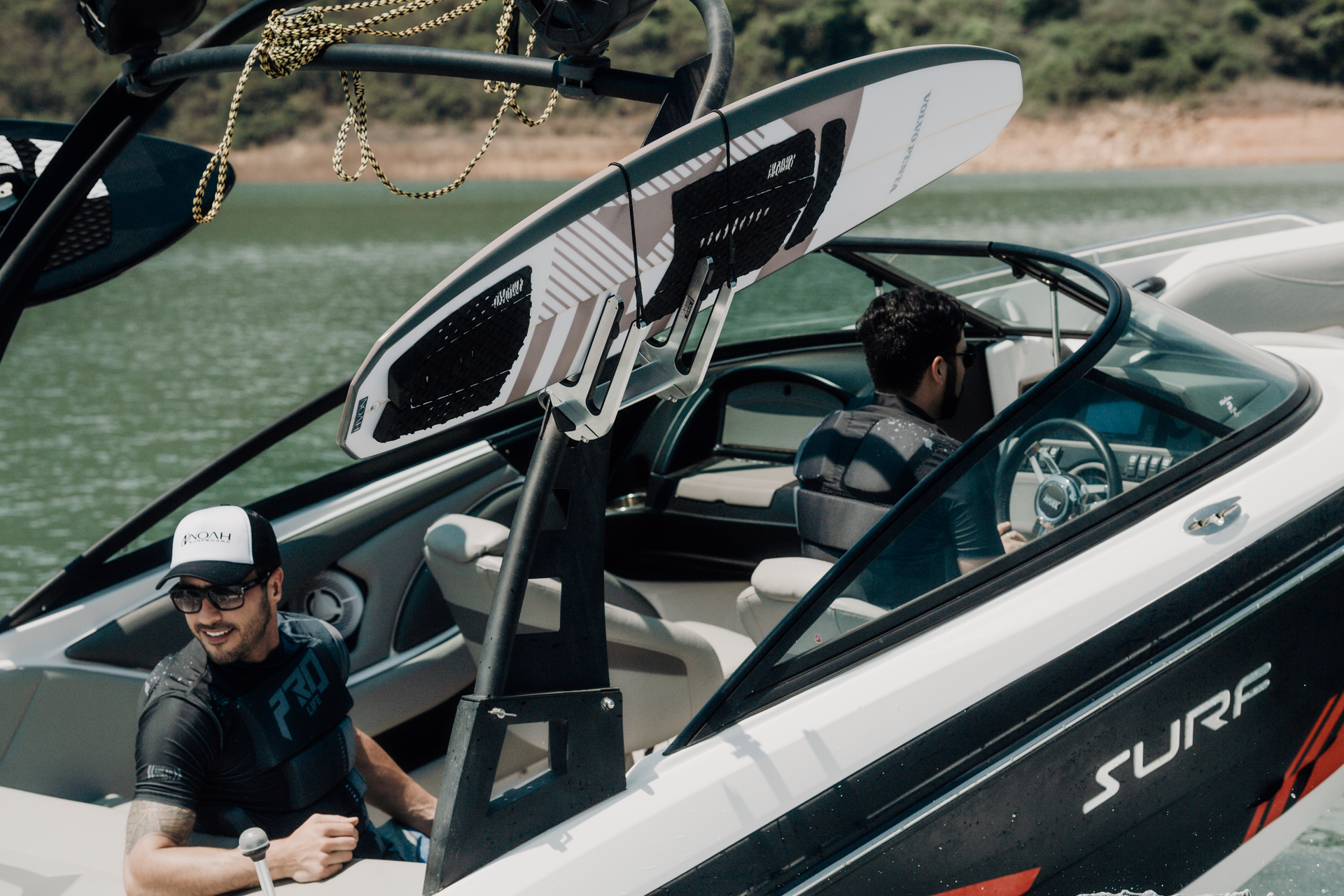 The Ventura V220 Surf sets the standard for both comfort and high-octane water sports performance. Embark on an unparalleled wave-riding adventure with the Ventura V220 Surf Boat. By filling its ballast tanks, adjusting the speed, and selecting your preferred surf direction via GPS control, you can effortlessly conquer the ultimate wave. Powered by the top-tier Volvo Penta FWD powertrain, this boat has been masterfully designed to achieve unmatched performance on the water, guaranteeing an experience of perfect waves that's second to none.
These are just a glimpse into the Ventura universe. Each model offers a plethora of unique features tailored to enhance your maritime experience.
👉Also read: Yacht Tour: Snorkeling in Key West
Embark on Luxury with The Advantaged Yacht Charters and Sales
Ventura Boats, a new line of boats, stand as embodiments of elegance, adventure, and precision. They're not just boats; they're dreams realized, promising unparalleled yacht excursions and sales. As they grace Miami's waters, they beckon the discerning, offering them a voyage like no other.
Whether you're yearning for an unforgettable adventure on the open seas or considering yacht ownership that reflects your aspirations, The Advantaged Yacht Charters and Sales is your gateway to a world of luxury, sophistication, and unmatched memories.
Ready to set sail with Ventura? Contact us now and let your journey begin.
To read more of our content, visit our Blog page or check out our Social Media: Twitter & Facebook!