Embark on a journey into the realm of exceptional yachting encounters by becoming a part of the esteemed Advantaged Membership Club. In the world of leisure and luxury, few experiences rival the splendor of cruising on a yacht, and this exclusive club opens the doors to a universe where extraordinary moments are not just imagined but realized.
The primary objective of the Advantaged Membership Club is to establish a seamless and convenient boating venture, negating the financial burdens associated with yacht ownership in the South Florida region. We enhance this proposition by introducing an exceptional benefit: an extensive, reduced rate or the opportunity for unrestricted usage throughout the entire year, thus granting you an elevated status as a Priority Member.
Simplicity further prevails; a mere notice of 3 hours to your designated charter specialist through a call or text empowers you to select from our array of available boats within the member charter program. Subsequently, all intricate particulars encompassing vessel preparation, crew allocation, fuel provisioning, food and beverage arrangements, and accommodation of any specialized requisites are meticulously managed by us.
The Advantaged Membership Club: Member Benefits and Privileges
The Advantaged Membership Club is not merely about granting access to luxury yachts; it's a doorway to an unparalleled lifestyle brimming with privileges and exclusivities. Becoming a member is akin to acquiring a golden ticket to a world where opulence meets oceanic adventures.
Firstly, members are treated to a meticulously curated selection of luxury motor yachts and sailing yachts. Each yacht in the fleet is a testament to impeccable craftsmanship, state-of-the-art amenities, and a design philosophy that marries aesthetic appeal with functional prowess. Whether you're looking to bask in the sun on a deck or want a sophisticated evening soirée sailing along the Miami coast, the fleet caters to every whim and desire.
Moreover, being a part of this prestigious club bestows upon members unparalleled perks, not available to the ordinary seafarer. From priority bookings, and personalized yacht settings based on preferences, to exclusive invitations to yacht shows and maritime events, the benefits are vast and varied. The club also prides itself on its continuous endeavor to rejuvenate and refine the membership experience.
Seasonal packages, yacht upgrade options, and thematic cruises ensure that the relationship between the club and its members is ever-evolving, making each voyage a unique tale of luxury and adventure. In essence, The Advantaged Membership Club encapsulates a promise – a promise of extraordinary maritime journeys, wrapped in the plush comfort of world-class privileges.
Retaining and Attracting New Members
The Advantaged Membership Club beckons the discerning yachter to a journey where luxury meets the limitless horizon. Our three elite membership tiers encapsulate a world of membership benefits, tailor-made for those who seek nothing but the best. Here's a deep dive into the ocean of privileges:
GOLD MEMBERSHIP
⛵Dive into a remarkable 20% discount across our entire fleet, one of the primary membership benefits cherished by our members.
⛵Secure your place under the sun by pre-booking up to 12 times in advance.
⛵Experience convenience with our quick reservation system, requiring just a 3-hour notice.
⛵Sail seamlessly with only a few blackout dates to keep in mind.
PLATINUM MEMBERSHIP
⛵Bask in the exclusivity with a whopping 40% discount on selected member boat options, making this tier's membership benefits truly stand out.
⛵Let the sea call you any time with unlimited yachting excursions every year.
⛵Chart your course by reserving up to 8 times in advance.
⛵Embark at a moment's notice with our streamlined 3-hour reservation process.
DIAMOND MEMBERSHIP
⛵The crown jewel of membership benefits, gain unlimited access to select member boat options all year round.
⛵Navigate with ease as you book merely 4 times in advance.
⛵Your yacht is ready at a 3-hour notice, ensuring you're always ahead of the tide.
Each tier at The AdvantagedYacht Charters and Sales is a testament to luxury, curated experiences, and a promise of unparalleled adventures. Dive into the membership program that resonates with your maritime dreams and set sail toward unparalleled elegance and grandeur.
Building a Vibrant Yachting Community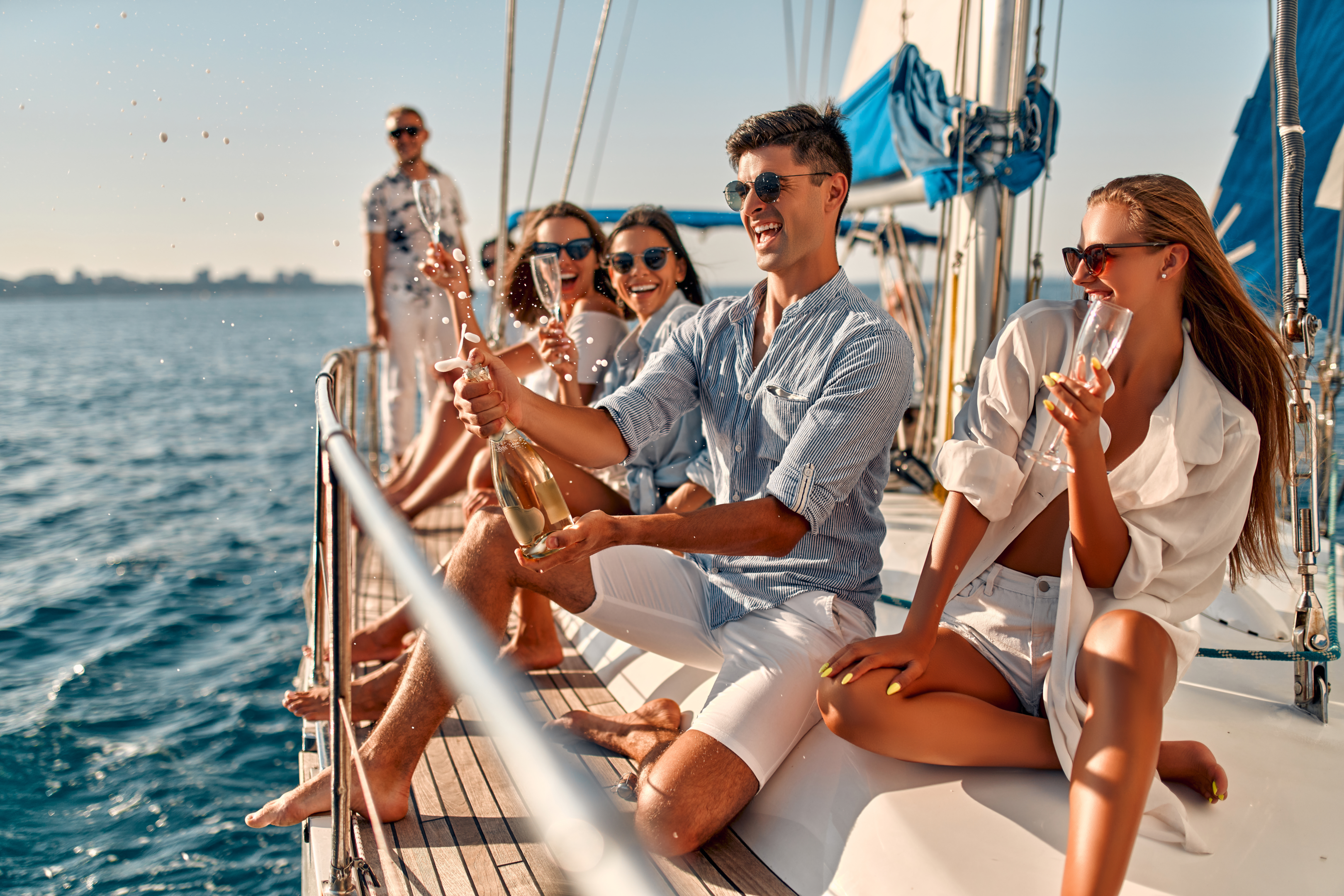 We understand that yachting isn't just about the ships and the sea; it's about the people and the shared experiences. To fortify this ethos, the club has pioneered an exclusive online platform where members can interconnect, reminisce about their voyages, and even plan future excursions together. This digital community serves as a lighthouse, guiding members to potential friends and collaborators who share their passion for the waves.
Moreover, the club breathes life into this community through meticulously organized events. Whether it's the summer sunset sails, exclusive yacht showcases, or the gala dinners at exotic harbors, each occasion is curated for member engagement, and entertainment, and enthuses its existing members. These events offer more than just experiences; they present opportunities. Opportunities to mingle with fellow yacht enthusiasts, learn from seasoned sailors, and forge connections that transcend beyond the decks of a ship.
The Advantaged Yacht Charters and Sales is not just offering a service; it's crafting a movement. A movement of like-minded individuals who cherish the sea and the camaraderie that comes with it.
Creating Unforgettable Yachting Experiences
Adventure, luxury, and impeccable service converge aboard the Club's yachts. With a crew trained in hospitality, members are assured of experiences that surpass expectations. Be it a diving expedition to explore coral wonders or a culinary journey featuring world cuisines, the luxury yachting experience is endlessly customizable. Members can indulge in spa treatments, watch movies under the stars, or simply sail to the rhythm of the waves. Every voyage is not just a journey, but a story waiting to be told.
Strengthening Relationships and Making Connections
While the yachts and the seascape play a significant role, the heart of the Club lies in its vibrant community. From business magnates to celebrities, the Club's members represent an eclectic yet discerning group. Networking events, thematic dinners, and workshops are regular features, offering members ample opportunities to connect, collaborate, or converse. It's not uncommon for two members to set sail as strangers and return as partners in a new venture.
Discovering New Horizons with The Advantaged Membership Club
Explore a range of exquisite yacht options tailored for our valued Platinum and Gold members. Experience the pinnacle of luxury and adventure on the open waters with these meticulously curated vessels:
Embark on a yachting journey of unparalleled luxury and make your leisurely moments unforgettable with these remarkable options available exclusively for our Platinum and Gold members.
Elevating Yachting Luxury: Join The Advantaged Membership Club for Unforgettable Adventures
At every juncture of your membership expedition, we stand prepared to provide unwavering assistance. Whether you seek clarifications regarding our membership levels or details about our curated yacht selection, our devoted team of member support is at your service.
Reach out to us:
Email: info@theadvantaged.com
Phone: +1-305-358-0745