One of the hardest parts about deciding how to decorate a yacht is choosing what type of aesthetic you want. Are you going for a trendy interior, or would you rather stick with a classic look? Do you want a more subdued feel, or do you want to impress your Miami yacht charter guests with a flashy design?
Whatever design direction you decide to go in is completely up to you. However, once you do decide, you will want to make a plan before getting started.
From trends to space considerations, here are three yacht interior design recommendations from the experts.
Plan the Interior Design of the Yacht
Once you have an idea in mind of the aesthetic direction you want to go in, write them down so someone else can understand them. One way to make sure you are communicating your vision so someone else clearly understands it is to collect images from other designs that you are taking inspiration from. This way, you can help ensure you and your designer are on the same page; whether it be the elegant, luxurious, simple, or cozy vibe you are going for.
If you want to use a yacht interior designer, ask to look at their case studies before choosing one to go with. Even if you have a clear idea of what you want, it is still a good idea to look at a designer's portfolio so you can see what they have to offer. Or, even for more inspiration.
When looking for a quality portfolio, check for a mix of proposals, concepts, and completed projects. This way, you can decide if a designer has the particular style you are going after.
Pay Attention to Yacht Interior Design Trends
Considering the large amount of yacht interior design trends that come and go, it is not unusual for the inside of a yacht to need a facelift or two throughout the course of its life. Recently, the yacht industry has moved away from traditional interior designs.
In keeping with the multitude of gadgets being released, the current popular trend is more minimalistic and futuristic. With the move away from flashy finishes, designers are now preferring a matte and modern feel with exotic woods and natural washed effects.
Regardless of the current trends within the yacht interior design industry, it is important to stay true to your own taste. The finishing touches on a yacht are extremely important. So, at the end of the day the most important component is that the owner likes it.
Consider the Best Use of Your Space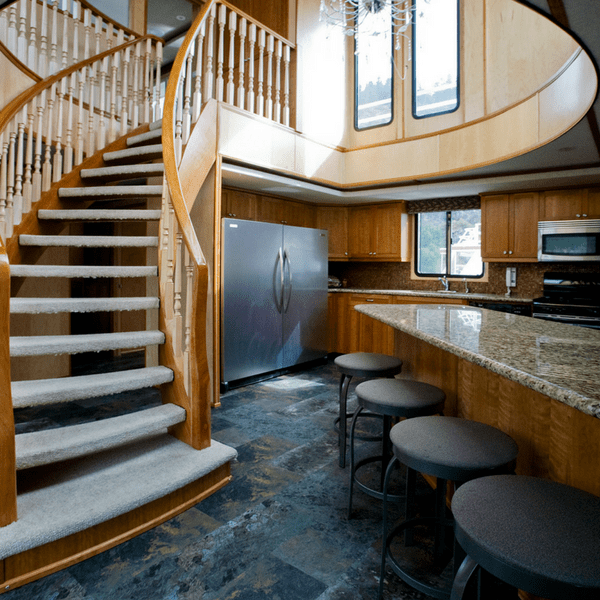 Depending on the number of people you plan to have onboard your yacht, space is one of the most important considerations. In order to make sure everyone is happy, there has to be a delicate balance between practicality and design.
Space is more of an issue on some boats than on others. If having enough room is an issue, then there are many ways to help with storage problems. This includes hidden integrated features, well-placed neutral decoration, and smart foldaway chairs.
Now that you have an idea of how you want to decorate your dream boat, take a look at our yachts for sale and turn that dream into a reality!